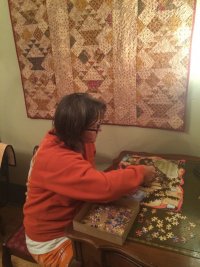 Whistlestop Open Retreats
We do not currently have any Open Retreats scheduled for 2018. However, we are working hard to make arrangements to host open retreats again soon. Keep your eyes on this page for information about any open retreats that we schedule in the future.

What's an Open Retreat?

You don't have to be part of a large organized group to enjoy a Whistlestop Retreat! An "Open Retreat" allows individuals or small groups the opportunity to join others in a fully hosted retreat. Open retreats are special because they include all your meals! Spend your time at an Open Retreat working on whatever you choose...quilting, rug hooking, scrapbooking, knitting or just shopping and relaxing!